It's been a while since I've made serious use of my wacom tablet. One day, Colon Mokto talked about getting back into sketching, so I decided to do a quick 2 minute sketch of his Demon's Souls character teabagging a black phantom in victory!
It starts with a simple sketch (2 mins in, 2% done)
I show the sketch to Colon Mokto, and he really digs what he's seeing. I think to myself I could perhaps make it into something really big. I decide to sketch my faith dude-- his teabagging partner-- into the picture.
Addition of second figure, drawing in of more detail and simple background. (30 mins in, 5% done)
I now begin to put some very basic colors in to get a general feel of how the painting will ultimately turn out. (35 mins in, 7% done)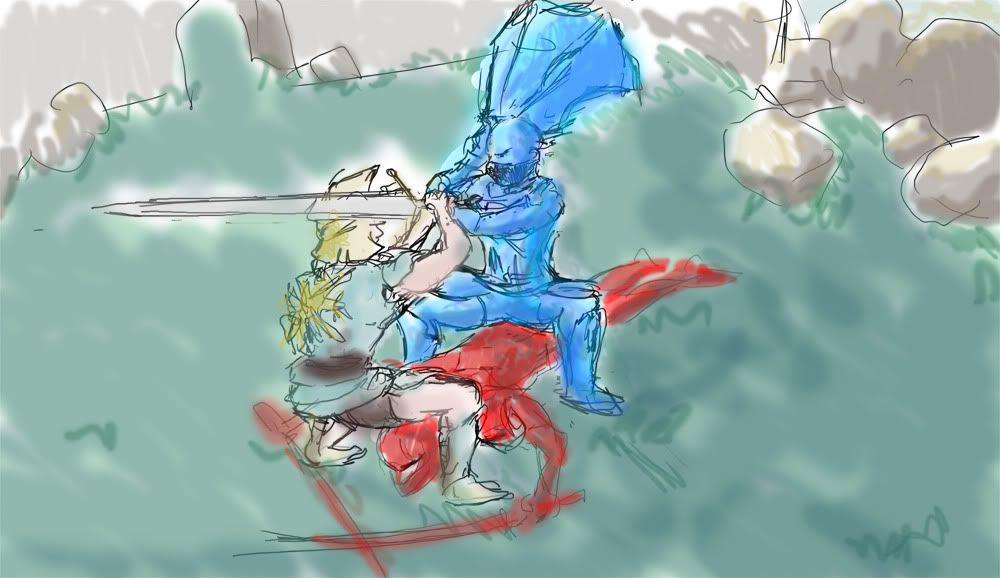 Now I begin to fill in the picture with more color and detail, adding in a few simple highlights and shadows to give some form to the figures and background. Colon Mokto's blue phantom's pose was a bit too low on the black phantom's ass, so his squatting position was changed a bit. (1.5 hours in, 10% done)
I've progressed far enough to get rid of most of the guidelines! Also begin filling in some more detail in the background, plus more shadows and highlights on the figures themselves. (2.5 hours in, 12% done)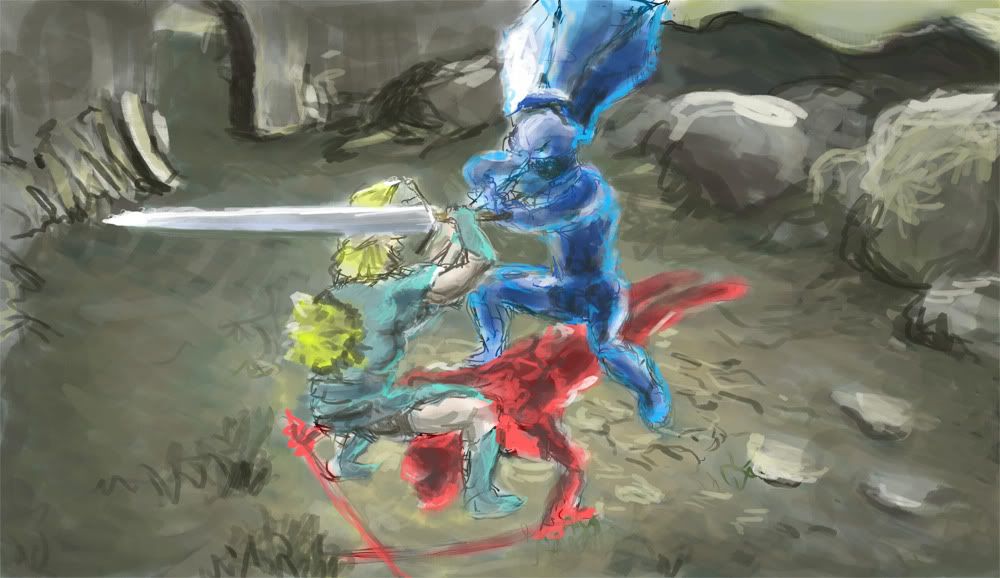 After taking a reference picture of a similar angle in world 4-1, I've changed the background for more accuracy. There is also a great amount of black added in both the background and figures for a vast improvement in depth and lighting. (6 hours in, 18% done.)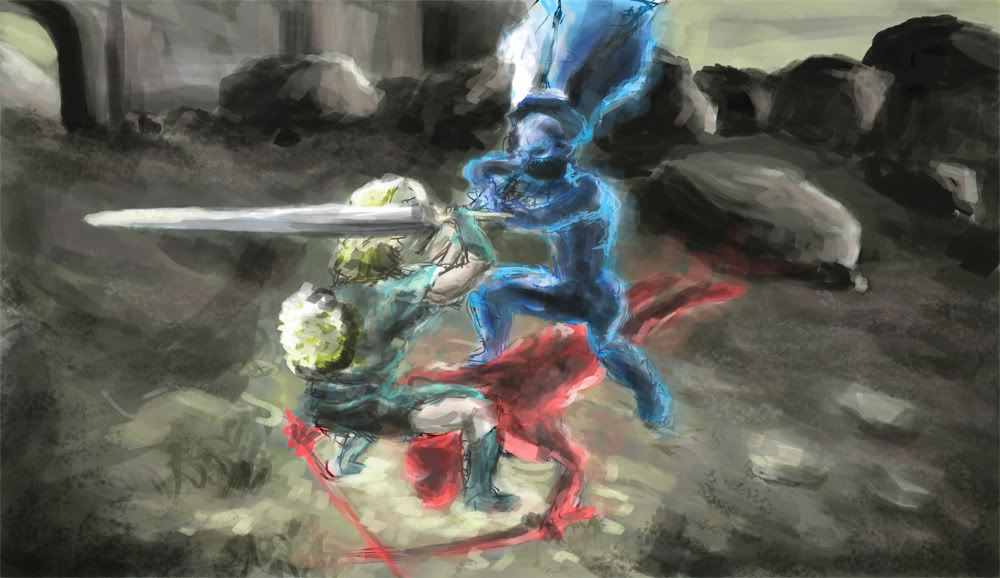 Time to give our characters more definition. Colon Mokto's character now has significantly more black for chiaroscuro effect, with a fixed bramd. My guy's dinky shield is now larger, and features more black as well. (8 hours in, 23% done)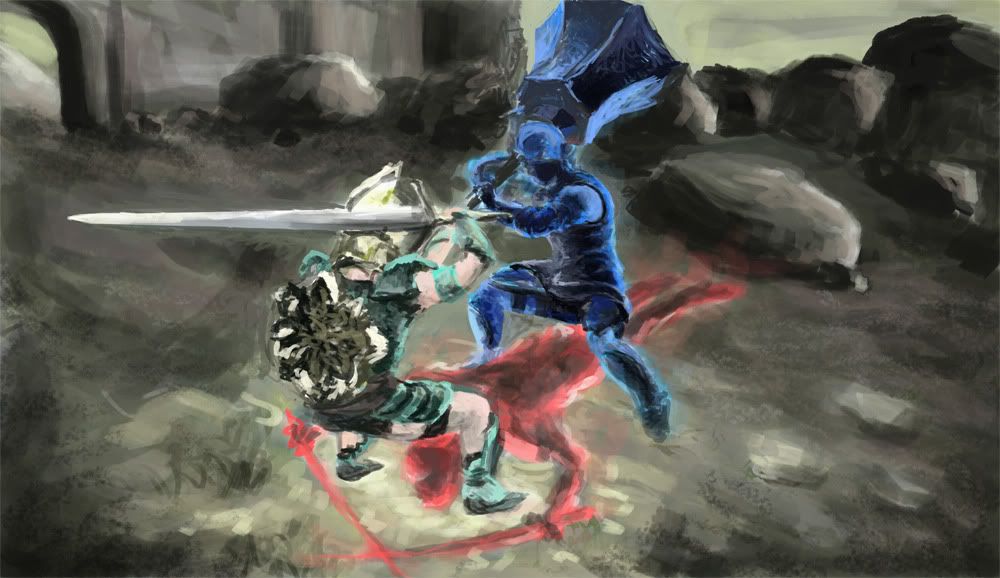 That dinky shield on my character is no more! After a dedicated two and a half hours to just the shield, I've drastically improved its realism. The angle of the Claymore has been changed to make his left arm more believable, while a significant amount of detail has been added to the background for better lighting and appearance of texture. (14 hours in, 33% done)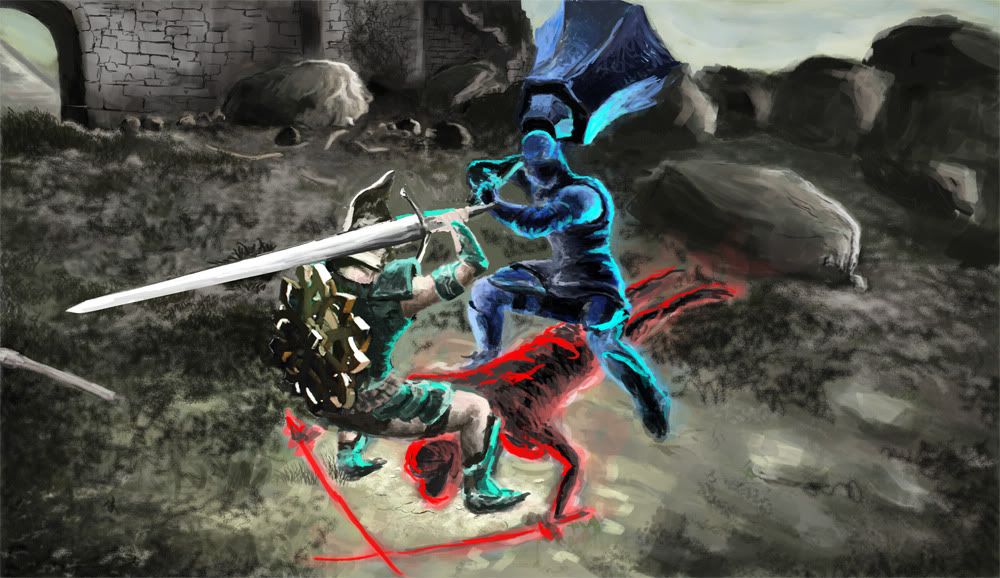 Another 4 hours of work, and we've altered the shape of colon mokto's bramd, so it's more analogous to what the game's bramd is. Some simple grit has been applied to bramd to help with basic texture, but finalized texture will come later with full etching and rendering. We've also taken some time to refine a couple of the parts on our characters-- namely colon mokto's boots, head, and my guy's helmet. The black phantom is more full now with considerably more black, as well as some basic shapes for armor and some orange glow to reflect my soul of augites. The grass has also been filled in some more. (18 hours in, 40% done)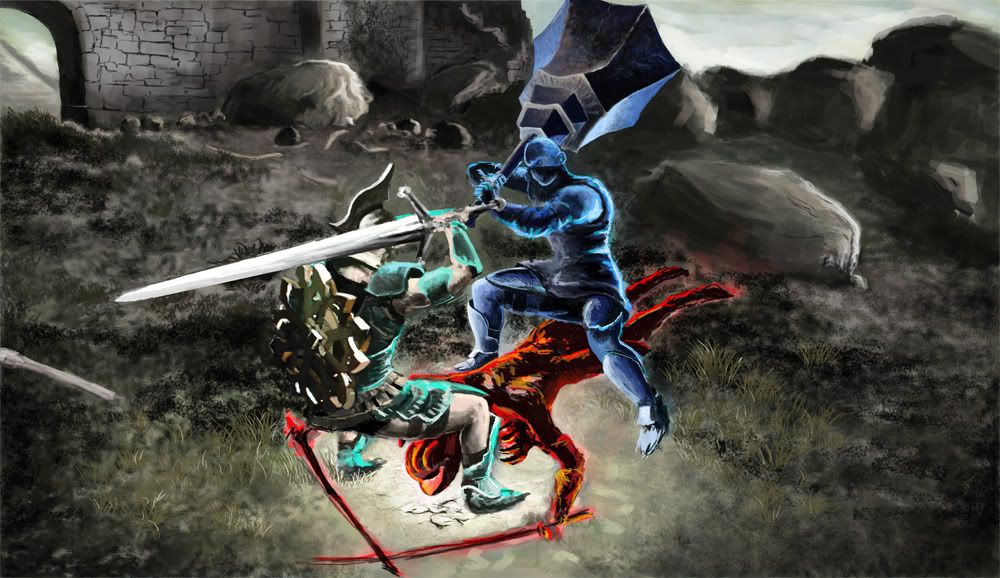 Another 4 hours of work, and I've added a considerable amount of detail and fidelity to the stone gate in the background of the picture, as well as adding a little bit of preview for what the painting will look like with a layer of dirt/dust clouds and ambient lighting. My guy's claymore true shape is starting to show, and the black phantom's neck is no longer that of a giraffe's. (22 hours in, 45% done)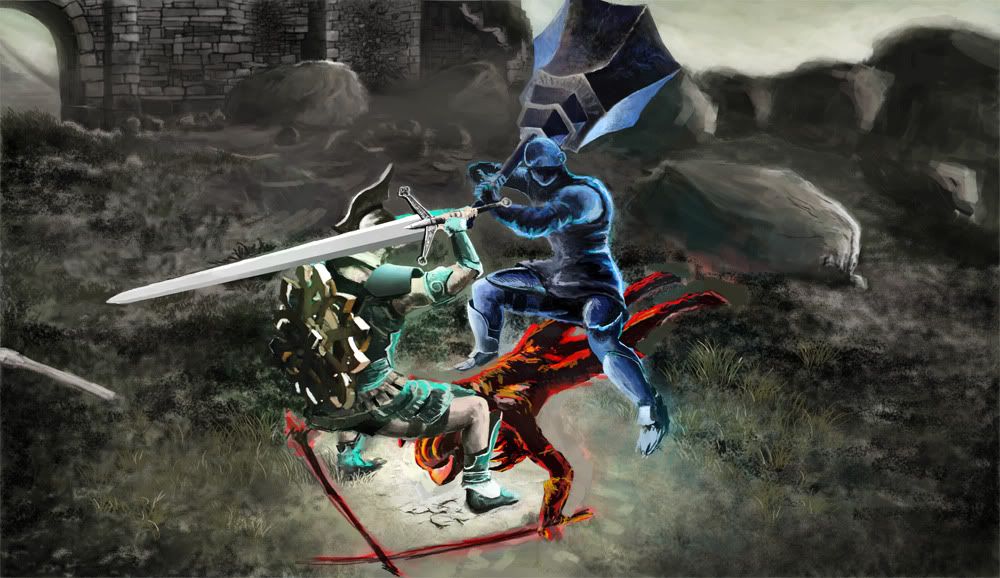 After a total of around 5 more hours, I've started nitpicking around the picture, and working on the parts that needed most attention. Most noticeably, my guy's claymore and shoulder pad are beginning to take true shape and texture (The lighting on the new shoulder pad makes my guy look so much more realistic!). Colon Mokto's blue phantom has had some fine tuning on his torso and shirt, while the black phantom is beginning to take true form, and shows some armor highlights. I've started playing around with the cracked mud texture in the foreground, as well as blue soul signs on a separate layer. There is also an extra layer added for hdr lighting effects that give my claymore and shield some real shine. (27 hours in, 52% done)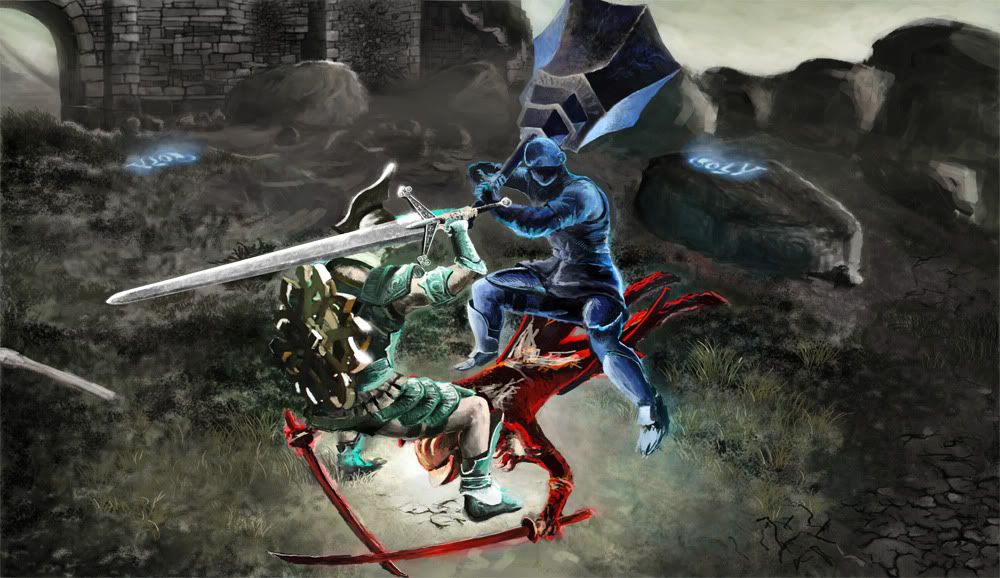 I havn't touched the rocks in the background of the picture since I first did the first major revision to the environment of the scene! Well with another 6 hours, I've finally given some much needed attention to those rocks in the background, and really focused on giving the ground some major cleavage. I've used a small sample of in-game cracked surface texture and pasted it just below the rock with the soulsign on it, then after tracing over it some, I started getting a feel for how to properly draw out the cracked mud texture, and I started creating my own texture all around the pasted area. I have also created my own texture on the very bottom right of the painting as well. The black phantom also has some minor revisions as well, but nothing too major. By the time this painting is done, he will mostly be a bunch of mist dissipating into the sky. With the retouches of the rocks in the background, the environment finally has some proper depth and is really starting to take shape into the Shrine of Storms! My guy's left foot is finally fixed a little, as well. (33 hours in, 60% done)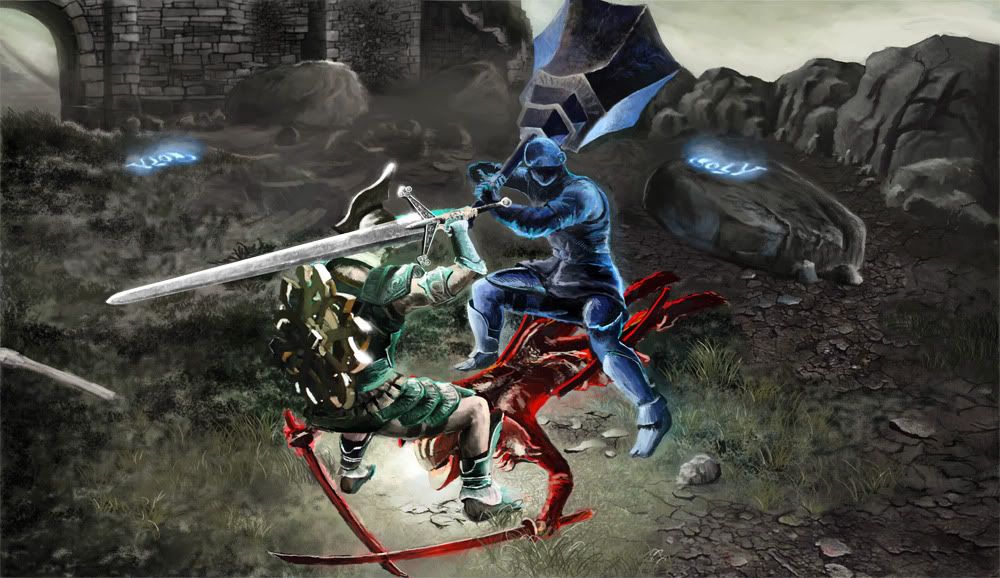 Well, with the semester over and after recovering some from so much oil painting for school, I think I can now sit back and start getting into teabag again! After an additional 4 hours, I started filling in some more detailed texture on the stone wall in the background to give it more pop and 3-dimensionality. I have begun to give realistic bloom lighting to the rocks in the background on the right and the sky behind it, as well as some reflections on the big rock on the ground with soul sign on it. I have made some anatomical fixes to PD's blue phantom, as well as changing the angle at which the black phantom appeared on the ground and the large stone appeared. When I initially made the major change in the environment, I never changed the angle of the black phantom, so it looked as though his ass was floating off the ground. With the change in angle, he looks like he's now on the ground. I have also created an additional layer with blue cast and its own custom alpha gradient to help in atmospheric perspective. (37 hours in, 64% done)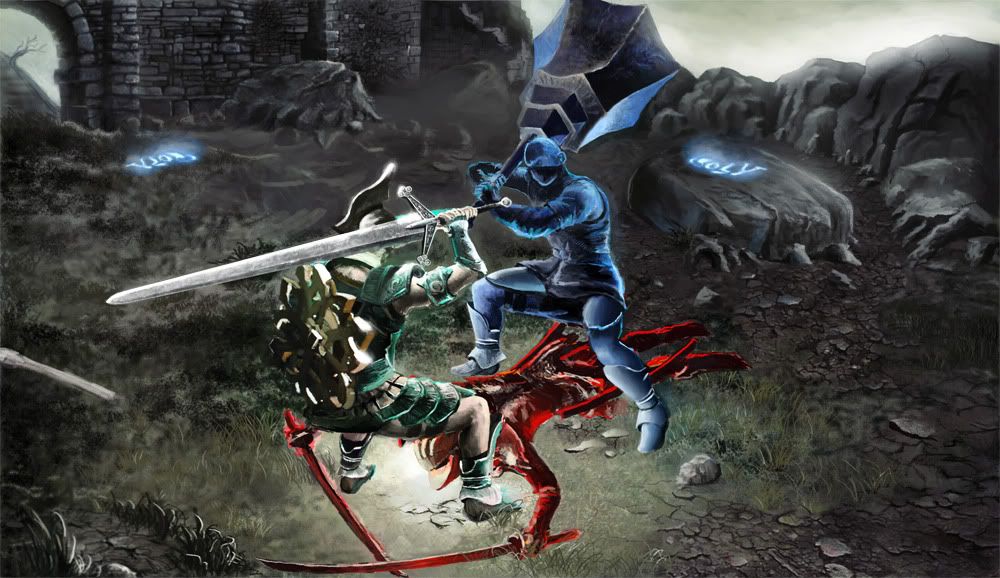 The full canvas is 8080x4670 pixels (27x15.5 inches @300dpi)
Edited by TMRaven, 13 May 2011 - 11:58 AM.